Social media these days are of great importance. Whether you are a celebrity, entrepreneur, or a business owner, social media like Facebook, Twitter, and Instagram are the necessary elements to interact with your fans.
You can post pictures, videos, and status updates over Instagram and Facebook so that your fans will be aware of happening in your life.
An entrepreneur shares their business ideas to their followers to get leads in their space. And in the same way, you can spread your business to get tremendous sales on social media.
But, wait, social media it's not easy to become popular on Facebook, Instagram, and twitter on the very first day. However, it's easy for top celebrities and famous people but, a newbie needs a hill struggle to achieve it.
Well, in below few minutes read we are going to tell you how you can generate a decent number of Facebook Page likes in minimal time.
Importance of Facebook Page Likes
So, you have to sell beauty products on your website and it is linked with your Facebook Page. You post your products daily over there. The people that liked your Facebook Page will see your updates as soon as they are live on Facebook.
For instance, CNET is a tech giant that review gadgets on there website and post technology news. They acquire 3.1 million Facebook Page likes and whenever they post any article on their blog, they simply paste the link on their social media profiles. It generates millions of traffic on their website and in turn revenue. Microsoft has 13 million Facebook page likes, Huawei scores 16 million and the list goes on and on. Companies these days are spending thousands on Social Media Marketing.
Benefits of Facebook Page Likes
Below are the few benefits of having many Facebook Page Likes
You can get millions of traffic on your website
You can get sales of your products
The right audience for your services
Expand your brand awareness campaign
You can share your ideas with the people living beyond your vision
Generate product leads
Sell your products directly to customers without any mediator like Amazon, eBay, Alibaba, and Daraz etc.
You can earn money directly from Facebook Page
Market your client products
Status update to billions of your followers
How to generate Facebook page likes
There are a few ways you can grab enough amount of Facebook page likes. Keep reading for the details of each method.
Invite your friends to like your Page
Run the Facebook Likes Ads campaign
Post your Facebook Page URL in relevant groups to your page category
Advertise your Facebook Page URL or name in your YouTube videos
Link your Page on your Website
Use free Facebook Page liker apps
RELATED CONTENT: TikTok Auto Liker
Facebook Likes Ads campaign
The best way is to use Facebook Ads campaign, specifically designed to generate Facebook page likes. There is nothing to panic, it's a very inexpensive way to acquire page likes. You simply have to go to Facebook Ads Manager by clicking on the Ads Manager button in the Ads Center tab of your Facebook Page.
Create your Facebook Page likes campaign thereby selecting the relevant demographic location on the maps section. Add your payment method and number of days you want to continue this ad, that's it.
Invite your friends to like your Page
It's a basic step once you have created your Facebook Page. Do you know you can easily get 5000-page likes by just inviting your friends at Facebook to like your page?
You can invite your all Facebook friends to like your Page by just clicking on Invite Friends Button right on your page. It will send a notification to all of your friends to like your page with your page link.
How to Paste your Facebook Page URL in relevant groups
It's a simple way, Not much either.
Do research according to your niche. Find the Open Facebook Groups with a sufficient number of members in the relevant niche you are looking for.
Click the join button, admin of that particular group will approve you as a group member. Copy your Facebook page URL (https://www.facebook.com/techlobsters) and simply paste it the post section. It will create a thumbnail once your post goes live with clickable Like Button.
How to Get Facebook Page Likes Via YouTube
YouTube is an excellent traffic source for website traffic as well as can increase Facebook page likes. Almost 2 billion people around the globe are the active users of YouTube. And 30 million are daily users.
Here the question arises how you can get likes for your Facebook page? The answers are pretty simple.
You can insert your Facebook page URL in the description section. Direct your YouTube audience to the link in the description beneath the video. You can also add sticky Facebook Page URL in the top of the video. You can add the Facebook Page link in each YouTube video permanently. Grab the attention of the audience with the words in your video script.
How to Get Page likes from Website
Besides YouTube, your business website is another major source where you can grab the Likes for your Facebook Page. So, you are getting millions of hit daily just like CNET, you can add widgets to your website.
It's a simple way to add Facebook page likes widgets in your website. Create an HTML code for your page from Here. Add a sidebar text widget from the WordPress appearance settings menu. Paste the copied HTML code in TEXT option.
Test the Front End of your website. The Facebook Page box shall display on your website sidebar menu.
How to Use Facebook Page Liker to get Unlimited Likes
Yes, you can get unlimited Facebook Page Likes absolutely free of cost with the help of Facebook page liker websites. It will cost you nothing but simple steps that you have to learn.
You will get real and natural likes from the real-time Facebook users out there. Here you will get Facebook Page likes, additionally, people will like your photos, videos, and will share your contents. You just have to insert your Facebook Page URL in Facebook Auto liker application and enjoy your coffee. The results will surprise you will sufficiently lead. So, without wasting time let's find out how Facebook Page Auto liker works?
Visit Like4Like.org page and register your account. It will require a username, password, Email address, and security check.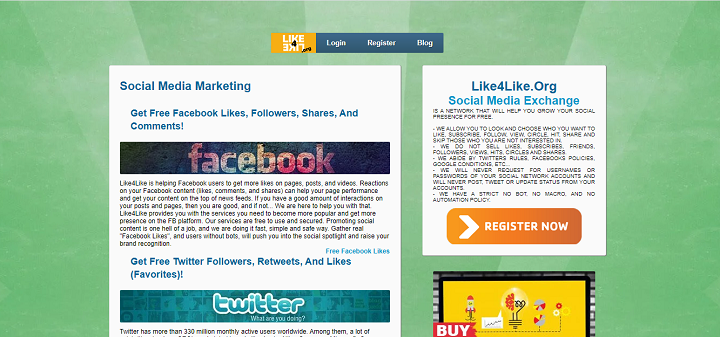 You'll get a verification email with username and password. Simply verify your Email and login into your dashboard. It is a like for like phenomena, you gain credit points, spend credits to get likes. It doesn't matter how you get credits, for instance, watching YouTube video, FB post like, or you buy paid credit on the website.
Go to the Add and Manage Pages option from the top menu and add your desired Facebook Page/post URL where you want to get likes. There are a few settings that you will need to adjust according to get like fast.