Pakistan Telecommunication Authority (PTA) presented Device Identification, Registration and Blocking System (DIRBS) back in 2015, but not fully implemented at that time. The main feature of DIRBS system was to help the consumers and business owners to check the identity of imported mobile devices for fake, and illegally imported mobile phones, register and block non-compliant devices on mobile phone networks, thus preventing the illegal import and sales of mobile phone devices in Pakistan.
Finally, this system started functioning on 1st December 2018. PTA introduces an application at google play store named DVS to check the IMEI validity. Moreover, you can check your device IMEI by dialling *#06# and send it to 8484 to check its registration status. This facility is also available at https://dirbs.pta.gov.pk/ and on DVS android application.
Foreigners and Pakistani living abroad bring mobile phones without paying taxes each year and this trend was rising. According to media news, 9,564,424 mobile phones were imported in 2018 alone, and this state jumps to 19,834,465 mobiles in 2019.
PTA imposes taxes on registration of IMEI to start network services. PTA started blocking un-registered IMEI from getting network services. The registration system was introduced so that a mobile phone owner can register their cell phone IMEI in the system after paying due-able taxes. For that time, it becomes a big issue for a bulk mobile exporter that were importing mobiles phones by illegal means, because the tax amount was higher than investment. Shutter down strikes was held by the shop keepers associated with used cell phone business in Pakistan. No, but little negotiation in terms of deadlines were allotted by PTA.
Finally, after many deadlines' PTA started shutting down the network services on mobile phones on unregistered IMEI numbers. But, on the other hand, thousands of people associated with mobile software repairing business stated manipulating the facts. They started changing the IMEIs of smartphones with low cost registered handsets at low prices with the help of software decoding systems.
So, the status of these smartphones started showing registered at DVS application. But, actually, the IMEI of the smartphone was tempered. This IMEI tempering stated at a vast level and the shop keepers associated with this business made a lot of money with this. However, you can check the validity of smartphone IMEI, whether it is the original identity number of that particular smartphone or not, with the help of IMEI.INFO, but many were unaware.
On the other hand, the DVS application only shows IMEI registration status in DIRBS. See the image below how it looks like. It only shows the device IMEI is a complaint or not. There is no such record of device.
People started buying used smartphones and illegal business gain rise. However, this tempering system gets fame across the country, but only in the favour of business owners.
Later on, seeing this scenario, PTA updated their system across the board to tackle this issue and protecting potential mobile phones buyer to see the real status.
In the new update released on October 11, 2019, the device verification system application finally started showing the manufacturer information and model that particular device that you are checking. See the image below.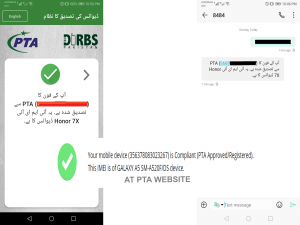 You can install the DVS application free from Google Play Store and App Store and check your mobile device IMEI verification status with original smartphone OEM details and model number.
Now you can register yourself with none net access. Through USSD (SMS in short) by dialling *8484#.
This system update is a great initiative by DIRBS and will be helpful for the 197 million people living in Pakistan. People now can check the original maker and model number straightway on their smartphones. A risk factor of purchasing tempered IMEI is strongly addressed with this update. The tempering system is degraded and discouraged with this great initiative by PTA.
However, this initiative is helped greatly to the potential smartphone buyers, but on the other hand, it is a big shock for the shop keepers in various markets of Pakistan such as Sadar Karachi, Hafeez centre Lahore, and Singapore Plaza in Rawalpindi. According to reports by a few of my friends associated with used mobile phone business, the trend of buying a smartphone is drastically dropped to 20%. Still, people are buying fake IMEI smartphones only due to the lake of knowledge. It is alarming for illegal mobile phone importers, distributors and sellers.
So, you are planning to buy a used smartphone in Pakistan. I'm quiet hope that this article will be helpful for you. Awaiting your precious word in the comment section…Regards
Conclusion: Well move by Pakistan Telecommunication authority and DIRBS that helped and saved the money of around 197 million of its population.
Worth Reading: How to Fix google play store download pending error