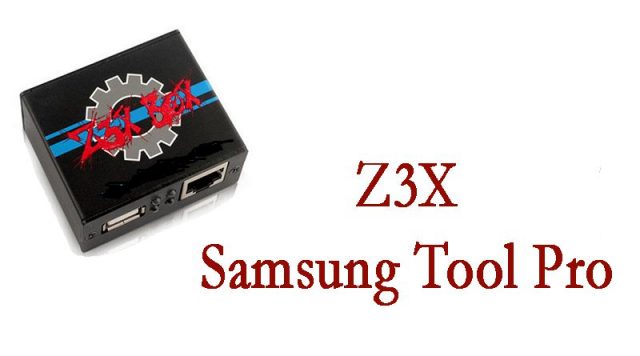 When you are in need of unlocking and flashing your Samsung smartphones and devices, Z3x Samsung Tool Pro is one of the best available options in the market. Z3x Samsung Tool Pro is an amazing creation as it supports all Samsung android devices. The Z3x Samsung Tool Pro isn't just a simple unlocking tool, but also capable of fixing your device if it's been bricked by flashing official firmware to the device.
This tool has the ability to flash official firmware and completely wipe a phone. It is very popular in the market because it can be used to unlock popular Samsung devices such as the Galaxy. Some of the smart features of Z3x Samsung Tool Pro are:
• Removal of lock codes on Samsung Tablets and smartphones
• Serial number Fixation
• Sim Password Resetting
• Bluetooth Fixation
• IMEI Repair
In addition to the utilities mentioned, Samsung Tool PRO can also entirely sweep your Samsung device in-case you want to sell it or end up retiring your phone. Z3x Samsung Tool Pro can also be used for repartition the filesystem for better results during the organization of the device's storage media.
System and Accessory Requirements to Use Z3x Samsung Tool Pro
Before installing Z3x Samsung Tool PRO, you must have installed a window in your computer. For best results, you must have Windows 10. Always use the registered version and never used unlawful ways to activate your windows as it will harm your system and eventually hurt your productivity.
A second most important accessory to use this tool is a USB Data cable that supports your device. Before using Z3x Samsung Tool PRO, make sure your Samsung device is completely rooted. When the rooting is done, you need to have all the Z3x Samsung Tool PRO drivers installed in your PC.
When you are done with these steps, you need to disable your Windows Defender and Antivirus. You can easily re-activate them after the completion of your project. Don't forget to back up your important files before flashing your Samsung device.
Keep in mind that Z3x Samsung Tool PRO is not certified by Samsung and it is not officially recommended. However, you can use Z3x Samsung Tool to update Samsung phone firmware and backup phone data effectively. The Z3x Samsung Tool PRO is licensed as freeware for the Windows (32-bit and 64-bit) OS on a desktop or laptop PC from mobile phone tools without limitations.
Samsung Tool PRO 34.11 is available to all Samsung software users as a free download for Windows 10 PCs but also without a holdup on Windows 7 and Windows 8. Compatibility with Z3x Samsung Tool PRO may vary, but will usually run fine under Microsoft Windows 7, Windows 8, Windows 8.1, Windows 10, Windows XP and Windows Vista on either a 64-bit setup or 32-bit. If you are looking for a separate x64 version, it may be available from Z3X-TEAM.
How to Install Z3x Samsung Tool Pro on Your Computer.
You can easily install Z3x Samsung Tool Pro on Your Computer by following these super easy steps.
Download the latest Z3x Samsung Tool Pro from a reliable source. Make sure you have followed the guidelines as mentioned earlier by us to turn off your windows defender and anti-virus.
Now Extract the downloaded file on your computer.
Run Z3x Samsung Tool file as Administrator. This will automatically start the installation process.
You need to be a bit patient until the installation is complete.
Done! You have successfully installed Z3x Samsung pro tool on your PC, and you are ready to enjoy unlimited benefits.